Lustworthy. Impractical. Perfect......Some things are worth smashing your piggy bank for....This antique Majolica cheese keeper is definitely one of them!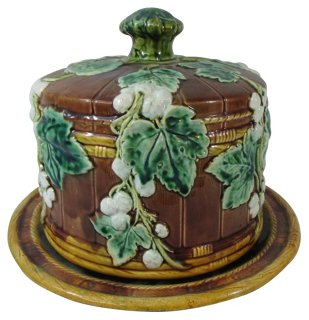 Antique Majolica Domed Cheese Keeper - $929.00
Domed cheese keeper that is a hard-to-find piece of antique majolica. Decorated with raised-relief vines and berries and a green leaf handle on the lid. No maker's mark. Dimensions Dome, 8.5"H x 8.25"Dia; underplate, 1.5"H x 10"Dia. A restored under rim chip on base.