My father had the most beautiful gardens that he nurtured with an incredible passion. His favorite flowers were always the beautiful roses that were in his charge and in an era that was full of strangely scentless hybrid teas and floribundas he taught me to appreciate the simple rugosa roses that he lingered over as well as the beautiful blowsy ones that he swore had the truest scent of all. I spent many years with him while he tended his lovely gardens, quietly working alongside while he pruned, coaxed and cajoled his roses into huge and heavily sensual blossom. The memories of how those gardens smelled in the early morning, petals and leaves dripping with dew and laced with honeybees will never leave me and in fact I'm fairly sure that those earliest fragrance impressions were responsible for my almost obsessive fascination with perfume.

Until recently I'd never found a perfume that could truly catapult me back in time to those amazing memories of my childhood and when I'm looking for that sort of impression from a fragrance that's exactly what I want . I don't want subtle, although it's just fine with me if the perfume itself is incredibly soft and nuanced. What I am looking for in a fragrance is the olfactory equivalent of a scented love letter that can convey emotions and pictures potently through the exquisite sense of smell. I want to be powerfully seduced by a perfume and I want it to instantly spark my imagination.

Such is my experience with the perfumes from the
House of Annick Goutal
. From the moment that I discovered them in Neiman Marcus so many years ago, I've been captivated. As one who enjoys perfumes and gaily earns her way through the world writing about them, I am lucky to get to try quite a few, many that are very interesting. It's quite the rarity that I find a line of fragrance where I'm passionate about almost all of them and that brings to me to the house of Annick Goutal. Nothing else in the world of fabulous perfume is quite like Annick Goutal, perfume that manages to be creative, edgy and completely elegant all at the same time.

For years I've loved them all from
Hadrien
to
Ninfeo Mio
, stopping to adore
Gardenia Passion
and
Songes
in between. I love
Mandragore
with its magical scent associations and the lovely
Muguet
is one of my favorite perfumes to wear in the early springtime when the soft green buds are just beginning to appear. Their
Neroli
is heaven sent from the Goddess herself and
Petite Cherie
just makes me smile every time I wear it because of its sparkling , fruity nature.

Although all of these scents occupy an enormous place in my fragrance wardrobe, none of them could prepare me for the raw experience of the latest release from Annick Goutal , an incredible, ethereal and utterly sensual rose perfume called simply , "
Rose Splendide"
. From the moment that I opened the sample, I fell instantly and powerfully in love.
Rose Splendide
was created by
Camille Goutal
as a tribute to her mother Annick who loved beautiful roses and sadly passed away from breast cancer so many years ago. Based upon the luscious Rosa Centifolia and carefully blended with magnolia, musk and a bit of deliciously ripe pear ,
Rose Splendide
absolutely sparkles with joy.

I love its greenness yet the rose is all there and instantly present.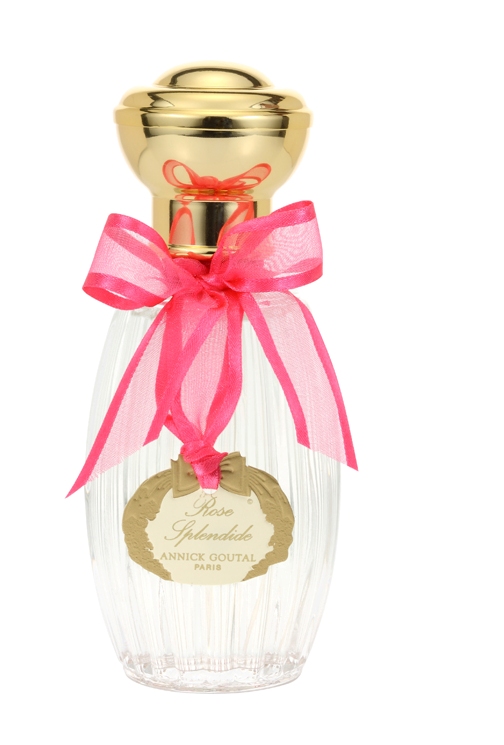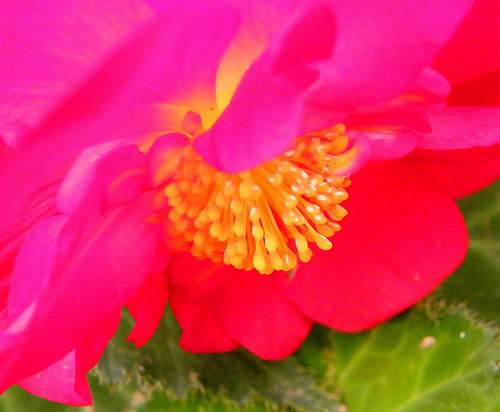 The moment I put it on I found myself transformed into a little girl standing in the garden once again, laughing and holding my fathers hand. I was also was transported to the romance of my wedding day, standing outside in that very same garden watching the florist weave masses of roses and ivy throughout the tents. In a simple instant
Rose Splendide
has become the fragrance that calls instantly to my mind some of the most passionate moments of my life. It is the smell of freshly cut roses, dripping with sap held and pressed against musky soft skin. It is that feminine, in my mind an absolutely perfect perfume because it fires up my imagination so completely.

Rose Splendide
is available at Bergdorf Goodman so when I was in New York City last weekend, I made a trip to visit Tom, the gentleman who is in charge of the glorious Annick Goutal counter there. He understands these fragrances like no one else that I've ever met so I wasn't the least bit surprised when after a few moments of fragrant conversation he got a little twinkle in his eyes and said , "Let's try something that I've been longing to play with for a bit now shall we?" With that he took a one of his pretty sample papers and sprayed a bit of the
Rose Splendide
onto it and then layered it gently with just a flourish from his test bottle of
Ninfeo Mio
. The result was magnificent and then he tried it on his skin. It made the Rose just a bit more masculine but not in an overtly animalitic way, instead it would be a wonderful combination for any one that wanted a rose fragrance that was more than a little bit Jay Gatsby. The woody notes and salty green aspects of the
Ninfeo Mio
were warmed to the touch by the sweetness of the
Rose Splendide
, either of these perfumes are wonderful by themselves, but together they were breathtaking.

Please tell me that you'll try the
Rose Splendide
as soon as you possibly can because I know that you'll be delighted by it. If like me, you've been longing for a perfect rose perfume to ignite your wildest dreams , I promise that this is THE ONE.